Post by neferetus on Jul 3, 2006 17:29:06 GMT -5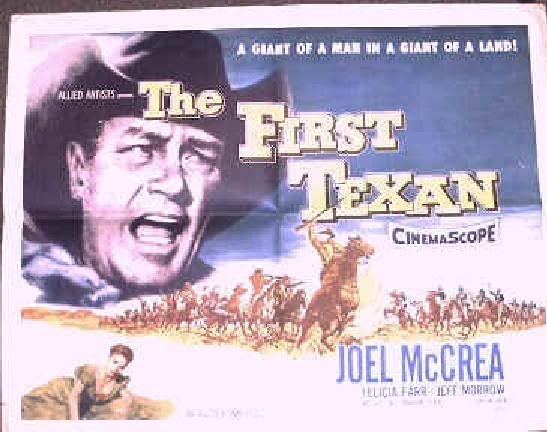 The First Texan (1956)
Directed by
Byron Haskin
Writing credits
Daniel B. Ullman (screenplay)
Daniel B. Ullman (story)
Cast overview, first billed only:
Joel McCrea .... Sam Houston
Felicia Farr .... Katherine Delaney
Jeff Morrow .... Jim Bowie
Wallace Ford .... Henry Delaney
Abraham Sofaer .... Don Carlos (magistrate)
Jody McCrea .... Lt. Baker
Chubby Johnson .... Deaf Smith (army scout)
Dayton Lummis .... Steve Austin
Rodolfo Hoyos Jr. .... Col. Cos
William Hopper .... William Barrett Travis
Roy Roberts .... Col. Sam Sherman
David Silva .... Santa Ana
Frank Puglia .... Pepe (San Antonio Hotel owner)
Salvador Baguez .... Don Juan Veramendi
James Griffith .... Davy Crockett
Runtime: 82 min
Country: USA
Language: English
Color: Color (Technicolor)
Sound Mix: Mono
THE FIRST TEXAN (1956)
Although many of the historical names may be familiar to the scholar, or buff of Texas history, THE FIRST TEXAN plays like an average B-Western. Joel McRea stars as Sam Houston. Recently ex-Governor of Tennessee, Houston arrives in Texas ready to hang up his shingle as a lawyer. Circumstances however seem to draw him into the already broiling arena of Texas politics, as a small band of revolutionaries plot to declare independence from Mexico.
As Houston, McRea attends a secret meeting of the 'revolutionaries' in San Antonio, including Jim Bowie, Davy Crockett, William Barret Travis and Steven Austin. When the meeting is interrupted by some Mexican troops and the officer orders the men to disarm, Jim Bowie (Jeff Morrow) draws his knife and then invites the officer to "Try it... PLEASE try it." Houston intervenes and helps the others to escape capture.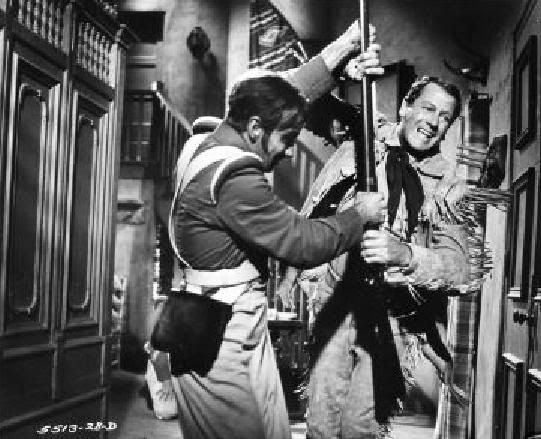 Santa Anna is said to be on the march for Texas and so the Texans need to build an army fast. Because of his leadership ability, Houston is appointed commander-in-chief of the non-existant Texan army.
The Alamo's fall is only mentioned in passing---we never see a glimpse of it, or of the battle. Too bad.
Houston's army then retreats eastward with Santa Anna in pursuit.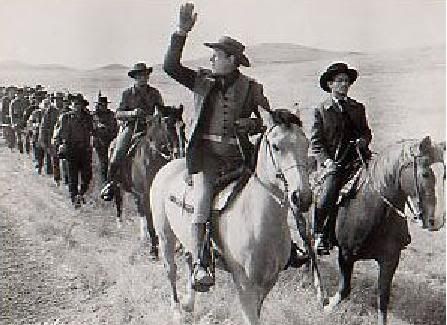 The battle of San Jacinto is laughable and was obviously done on a shoe-string budget, as about twenty cowpokes, let by Houston, sneak through some woods, until they get within point-blank range of the Mexican camp---a few wagons and a tent. The cowpokes exchange a little gunfire with the surprized Mexican army, inducing them to swiftly surrender. Texas is free and Sam Houston is naturally elected first President.
Katherine Delaney provides the film with its love interest, as Houston seems driven on to saving Texas merely to please his sweetie.
Joel McRea was an able Western actor and made many a good Western. Too bad that the powers-that-be felt that the history of Texas should fall into that category to save money on costumes, sets and props. Both Texas and McRea deserved better.
This is a very hard to find film; I've been unable to locate it on eBay in any format and have not actually seen it for perhaps 20 years. Has any one out there seen it, or do you have it, for that matter? If so, please help provide this thread with a little more information than I have been able to come up with.