Post by neferetus on Apr 12, 2006 13:03:41 GMT -5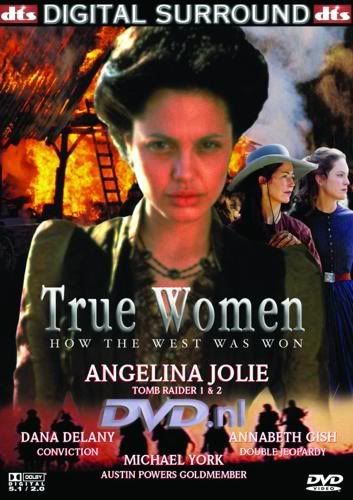 TRUE WOMEN, a 1997 TV move,
based on the book by author Janice
Woods Windle, teleplay by Christopher
Lofton, directed by Karen Arthur.
It's not that this movie is so much about Texas history as it is a melodrama, set in 19th Century Texas. What should have and could have been a refreshingly different slant and perspective of the birth of Texas---from the point of view of Texas women-- instead comes across as a quite hollow love story, strung together with unforgivable bits of half-history.
Again, the premise is a good one. And so is the cast. Dana Delaney, Annabeth Gish and Angelina Jolie are pioneer women from the States who come to Texas to seek a new life, each of them having left behind a sad secret, or memory. (One of the memories is of Irene Bedard, as an Indian woman named Tobe who gets lynched by some Indian-haters.) Caught up in the Texas revolution, the women are forced to abandon their homes and skedaddle on the 'Runaway Scrape'. Dana Delaney takes over the wagon train of refugees, as there are no men about to take on the task. Her husband, (Powers Booth) is off riding with Sam Houston's army. Dana Delaney's daughter (Tina Marojino) narrates most of the story from the viewpoint of a child. While playing in the field one day, she is practically ridden down by Sam Houston (John Schneider) Schneider has the distinction of having played both Davy Crockett, in James Michener's TEXAS and Sam Houston, in TRUE WOMEN.
Anyway, the Runaway Scrape is depicted nicely, with all of its hardships and heartaches. No battles, or any fighting is depicted at all, save for a glimpse of cannon fire in the distance as the refugees seem to be close enough to the San Jacinto battlefield to see the action there---happening at night, mind you. Next day, the victorious Texans, Sam Houston in the lead and unwounded, ride up to report of their success against Santa Anna.
The rest of the film depicts the progression of the lives of the TRUE WOMEN, up to the Civil War and beyond.
Filmed in Texas' Hill Country and the Washington-On-The-Brazos Park, TRUE WOMEN is certaing visually stunning for its setting.
(Also stars Michael York.)