Post by neferetus on Mar 21, 2006 23:08:48 GMT -5
I taped Steven Spielberg's "Alamo Jobe" when it first ran, back in the mid-Eighties as part of his AMAZING STORIES series. Starring Kelly Reno of BLACK STALLION fame, ALAMO JOBE tells the story of a young defender of the Alamo who gets sent out of the fort during the battle by Colonel Travis to report to a certain General Lefferts on Shuttlecock Road. When Jobe leaves the Alamo however, he steps out onto modern-day San Antonio Alamo Plaza. He spends the rest of the show riding on a stolen policeman's horse in search of General Lefferts. When he finally reaches Shuttlecock Road, he finds a John Lefferts who owns an antique store there. When told by Lefferts what happened at the Alamo, Jobe determines to return and be with his friends. ALAMO JOBE ends with Jobe re-entering the Universal Studios Alamo church to the sound of gunfire. After the doors bang shut, the credits run.
As Frank Thompson relates in his marvelous work, "Alamo Movies", the most of the Alamo sequence was filmed on the backlot of Universal Studios. (Alamo battle scenes however, were lifted from John Wayne's "The Alamo".)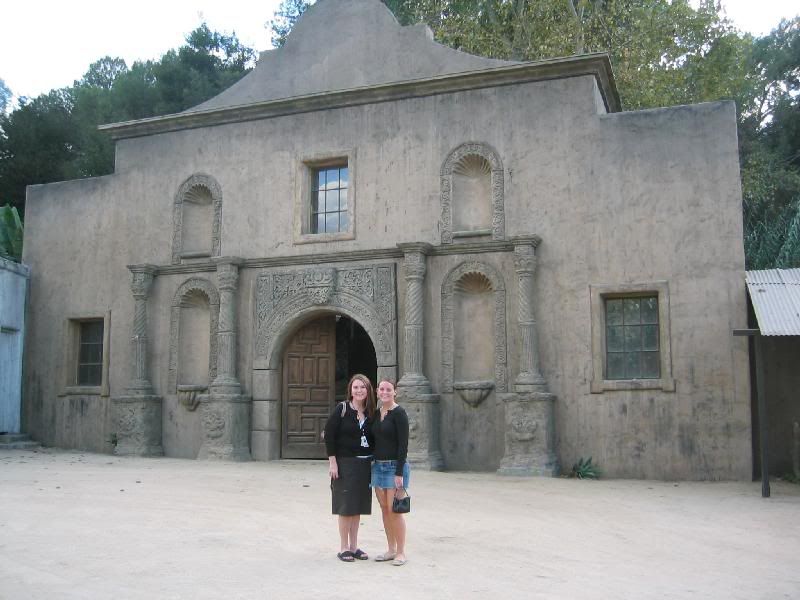 The Universal Studios Alamo set, on the backlot tour.
ALAMO JOBE's 'modern day' Alamo Plaza might throw some people for a loop, though. It was actually filmed on Los Angeles' Old Plaza, near Olvera Street. The Plaza, with it's early 19th Century Spanish church is the oldest fragment of L.A. yet standing; using it to represent San Antonio, therefore, was a logical move. The bizarre thing is though, when Jobe (Kelly Reno) steps out from the Universal Studios church doors onto the Plaza, you see a huge painting of the Alamo draped across the pavements. this is no 'matte painting. It is lifesized. (Wonder where this monster is now?)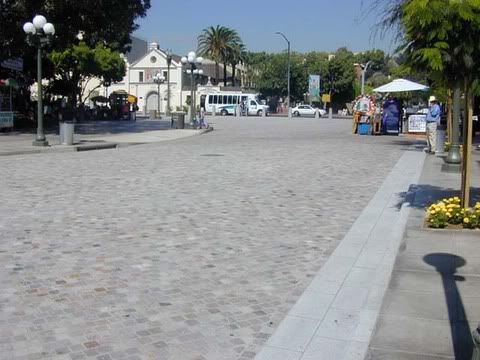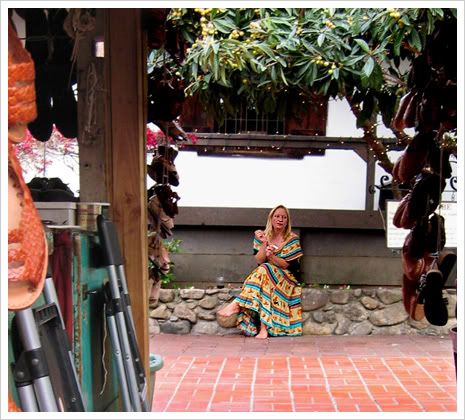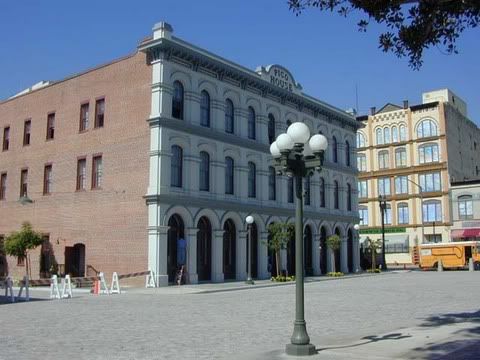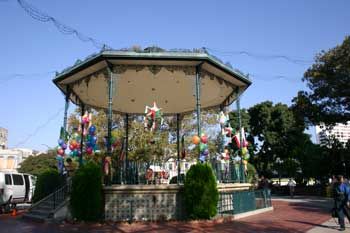 In ALAMO JOBE, when Jobe (Kelly Reno) steps out of the front door of the Alamo onto 'Alamo Plaza', he is actually stepping out onto Old Plaza, Los Angeles, complete with bandstand.