Post by neferetus on Aug 8, 2007 13:33:41 GMT -5
Just a bit of trivia for you all: One of the buildings the DRT are trying to purchase as part of their proposed expansion of the Alamo grounds, the Cavalry Museum, was the former location of ALAMORAMA, an electonic recreation of the battle of the Alamo.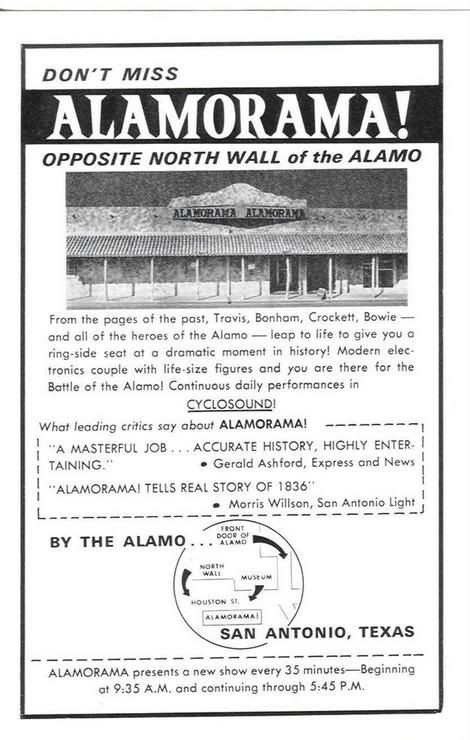 Before the REMEMBER THE ALAMO THEATER, THE TEXAS ADVENTURE and ALAMO, THE PRICE OF FREEDOM, there was ALAMORAMA!, a recreation of the siege of the Alamo that employed life-sized electronic figures. From the memory of an old newspaper photograph of ALAMORAMA! that I used to have as a a kid, most of the action seems to have centered around the Alamo church, near the front door. (It being confined to a small stage area, this makes sense.) Travis draws the line, Texians fire over the wall, the doors are breached and a few figures---including Crockett---electronically scuffle. (Picture the "Pirates of The Carribean", only confined to a small area.)
Sadly, I was never able to see ALAMORAMA! Upon my first visit to San Antonio, in August, 1973, I discovered the building housing the presentation already empty. A sign in the Crockett Hotel lobby said that ALAMORAMA! had been moved to that building's 2nd floor, but upon investigating, I came up dry.
Did anyone on this board ever have the opportunity of seeing ALAMORAMA? If so, please chime in with your two bits here.
(
The above advertizement is from a 1966 San Antonio tour pamphlet.)