Post by neferetus on Nov 2, 2007 8:10:34 GMT -5
BARBAROSA (1982)
This Willie Nelson, Gary Busey Western involves both revenge and family ties. Willie Nelson portrays an ex-Texas Ranger who marries into a Mexican family. On the wedding night, things get a little rough and one of Nelson's in-laws is killed. Willie (Barbarosa) is blamed for the death and, in retribution, has his ears cut off. He also has a bounty put on his head by the family patriarch, (Gilbert Roland), whereupon a family vendetta begins.
Garey Busey costars as a young farmer who's been falsely accused of murder. When he and Nelson meet up, they ride together for a time. A sort of teacher/mentor relationship develops between the two.
Though critically lauded and equally loved by audiences who got the chance to see it, BARBAROSA was pulled very quickly from theatrical screens, when the studio that released it went bust.
Hard to find on video at all, the DVD release of this wide screen motion picture is in the full screen format.
The main reason BARBAROSA is being mentioned here
at all
is that the production was filmed primarily in Alamo Village, in Brackettville Texas. That, and the fact that the movie set from John Wayne's 1960 film THE ALAMO, was transformed into the hacienda of Gilbert Roland's Mexican family. While the plaza was finally cleared of all the adobe ruins from the 1968 film BANDOLERO, a cemetario was constructed that completely blocked off all views of the north wall.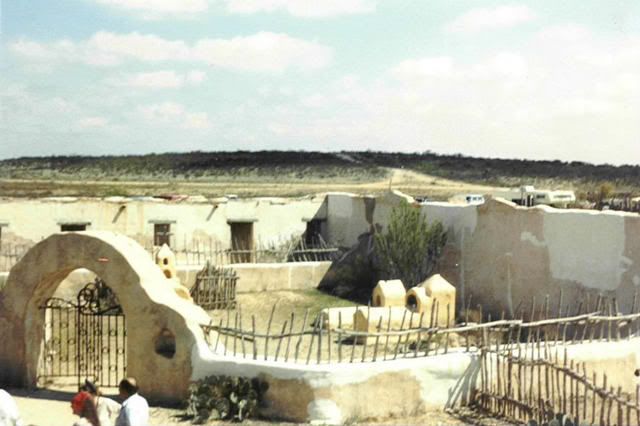 Still, it was good to see the plaza cleared and some new false-front buildings constructed to close the gap in the west wall.
The most unpardonable sin, however concerns the Alamo chapel. At the time of BARBAROSA, it was barely a building at all---just a facade being held up by a couple of crumbling adobe walls. Well, to help rectify that, the BARBAROSA crew built the hacienda right over the chapel ruins and the adjoining Long Barrack. The result was a sort of long arcade dubbed 'the catacombs' by some reenactors who later used the location for their living history programs.