Post by on Jan 19, 2006 17:06:09 GMT -5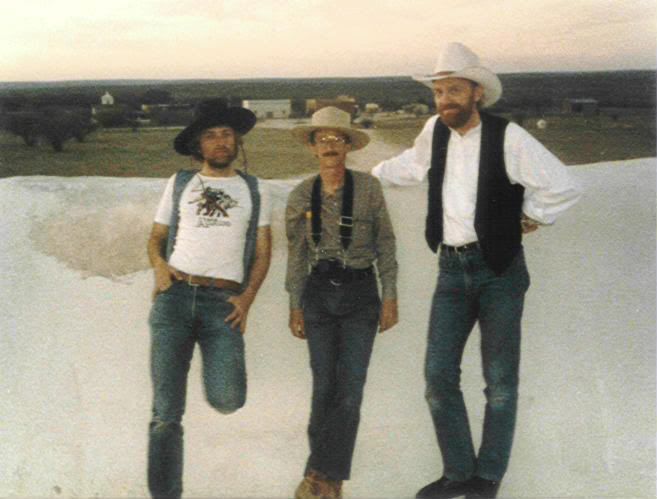 Filmmaker Richard Curilla (Center) stands over the Waynamo compound's main gate, flanked by Ned Huthmacher and Kaj Andersen
ALAMO… THE NEW DEFENDERS (1999, Directed by Richard L. Curilla
)
Available exclusively from Alamo Village Trading Post, P.O. Box 528 F.M. 674, Brackettville, TX, 78832, (tel.) 830-563-9768, (fax) 830-563-9226
Upon visiting Alamo Village and entering the Trading Post, you will find many souvenirs, books, pictures and other items of interest. If you are a tourist you will purchase postcards or mugs. If you are a fan of Alamo movies you will opt for a poster or a T-shirt. If you are deeply interested in the history of the Alamo story as well as the films, then you would be well inclined to buy books and, if you are smart, this video.
First up, let me say I do not get royalties for plugging anything! In fact, when I first saw this video for sale in the Trading Post I was somewhat skeptical about it since I'd never heard of it before. But I was assured by the staff that it was informative and well done. Then having the opportunity to meet and chat with Richard Curilla, the writer/director of this project and the on-site Alamo historian and guide, I became convinced his video would be highly interesting and educational. I'm glad to report that it is all of that and more.
This is a video, not a film. Video does not look as professional as film. Richard had no crew to operate lights or reflectors, no Art Director to dress the sets, no make-up artist to beautify his subjects. He did it all himself. The technical limitations do show, but he presents his material with a sure hand and an invested interest in the subject matter that is infectious.
ALAMO… THE NEW DEFENDERS is essentially a documentary and chronicles the three day retreat of a special group of people who call themselves Living History Interpreters. These are folks whose passion for a specific period and place in history (in this case the Alamo at the time of the siege) is so all-encompassing that they live the parts of the historical personages they are representing to such a degree that they eat the same food, wear the same clothes and deny themselves any modern conveniences during the course of their retreat. Some of these same people were employed in the documentaries mentioned above.
Because Alamo Village is a prime tourist attraction and educational tool, this retreat was a tremendous opportunity to introduce children to the history of Texas in 1836 and the people who lived at that time. Living History Interpreters interact with visitors and provide a personal touch, explaining the premise of their retreat and asking everyone to 'pretend' with them. Once the ground rules are established, characters speak in the first person. It is almost eerie to be among people so committed to getting it right.
This video follows both Alamo defenders and Mexican soldiers during the siege and seeks their comments and observes their actions. It is the same premise that was used in the classic BBC documentary CULLODEN in the mid-sixties, whereby the camera served to plunge viewers into a 'you are there' scenario and followed both the Scots and the English before and during one of the most horrible, bloody battles in the history of the United Kingdom. The experience of that program (which had a full crew) was visceral and unforgettable, and was followed a year later by another program by the same team called THE WAR GAME that depicted a future war rather than an historical episode. It was equally effective and won further critical acclaim.
Richard seems less ambitious in his undertaking but still involves the viewer, though in a more low-key way. The interpreters are not actors but they are quite convincing as their various characters. When a Mexican soldier tells you that Santa Anna has not provided for medical supplies in this campaign, you believe him when he tells you that the soldiers all agree it is better to be killed outright than to be wounded. And as a result of such observations from participants on both sides of the conflict, the countdown to the final battle begins to unfold a genuine sense of drama. These are living, breathing people here and the stakes are high.
It is at this point that a practical, necessary and highly effective switch in presentation occurs. Using a diorama model, Richard treats the viewer to a three-dimensional table-top outline of what happened in the final Alamo battle. Mexican battle tactics are shown and the movements of both sides are clearly illustrated. Informed narration mixed with battle sound effects give a surprisingly stirring impression of this bloody conflict. The juxtaposition of the every day lives of the people we have just met from both sides with the clinical bird's eye view of the battle works very well. Had we just been shown the diorama without knowing the people the video would have been educational at best, boring at worst. As presented, it actually succeeds in involving the viewer, despite the technical limitations on hand.
One simply cannot compare this video with professionally produced dramas or documentaries with large budgets and all the inherent resources. Like a number of the other presentations reviewed here one must simply take this video on its own modest terms. It is the result of a passion to share the Alamo story, make it meaningful to people today and introduce a younger generation to this important historical incident.
There is nothing pretentious about this video. In fact, Richard jokingly calls it ALAMO… THE NUDE DEFENDERS. Certainly he had no budget, but his subjects did have clothes! It is but one of many things to be thankful for in this informative, satisfying program.
Alamo fans will Alamo fans will appreciate the original perspective presented here. It is an important addition to any Alamo library.
That fine, insightful article (how's that for "unpretentious") was written by Jon Ted Wynns for his great website einsiders.com. He didn't charge me a cent. I sent him Frank Thompson's credit card number. RICHARD CURILLA
P.S. -- That number again is 830-563-9768. Get the video while it lasts!
Many on this board will appreciate the living historians who volunteered their efforts to help make
ALAMO...The New Defenders
the fine piece of work that it is. With Steve Aabolt as William Barrett Travis, Mike Waters, as Jim Bowie and Jeff Bearden, as Davy Crockett, ALAMO...THE NEW DEFENDERS allows the viewer to meet these Texas heroes firsthand, until they ultimately become as familiar as old friends.
With historian Steve Hardin on hand to give his perspective of the siege and battle and with Rich Curilla himself as narrator, this is one Alamo video that will make you want to refer back to it again and again.