Post by neferetus on Jun 29, 2014 0:59:25 GMT -5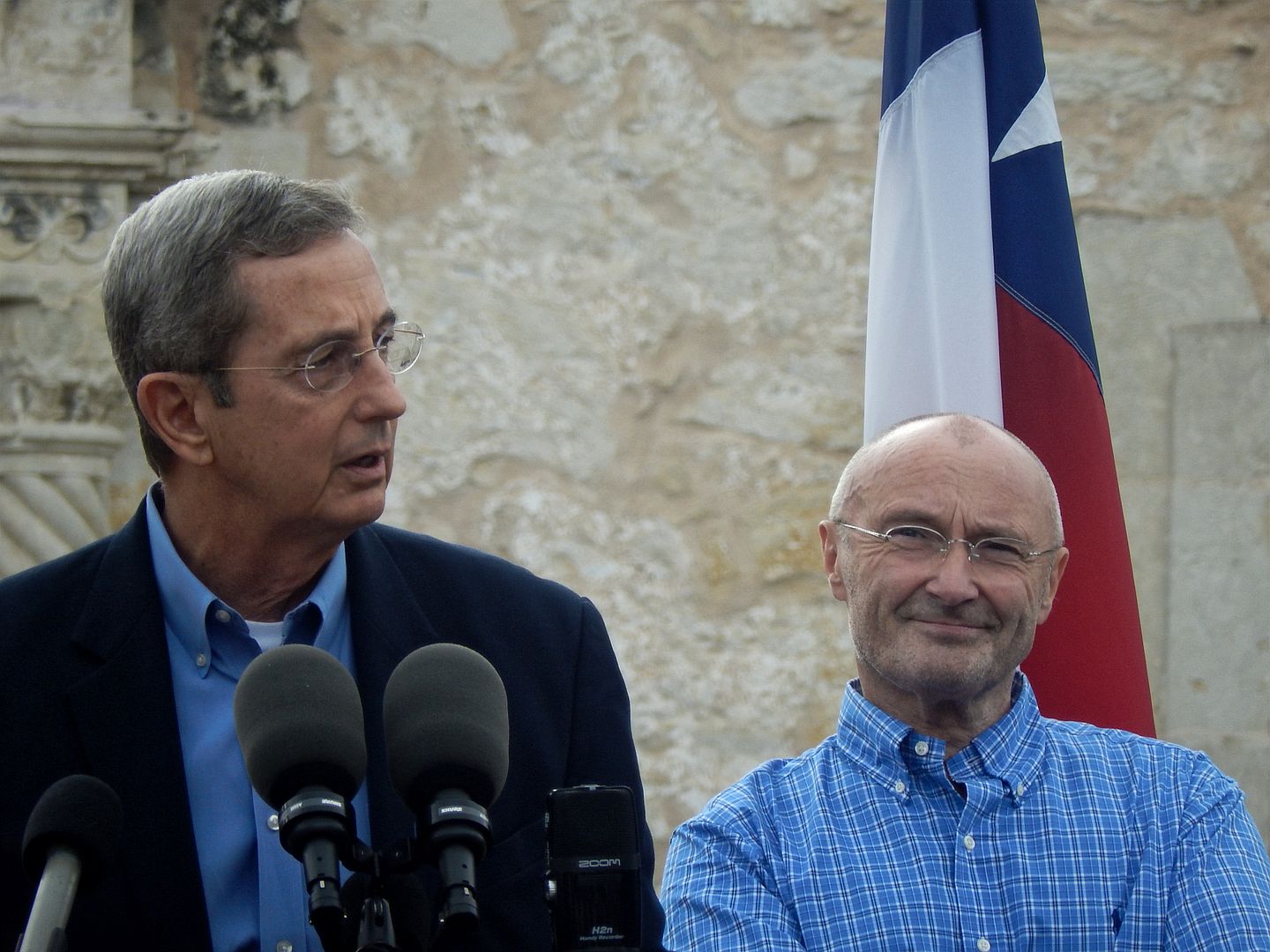 It was a muggy Thursday morning on Alamo Plaza as a bank of news cameras set up in front of the
Shrine to broadcast Phil's speech. Joan Headley, Chris Smith, Virginia Van Cleave, and Grant &
Amanda Maloney were also on hand. Collins arrived hatless in a long sleeved dress shirt and blue
jeans. After an introduction by GLO manager Jerry Patterson, Phil spoke of how he had been an
Alamo buff since he was a child. His first visit to the Alamo was in 1973 during a break in the
US Genesis tour of that year. After seeing so many photos in history books, Phil mentioned how
he'd been blown away upon rounding the corner of the Long Barrack for his first look at the Alamo
facade. He said it was a very spiritual experience for him. On mentioning the reason he was
donating his vast personal Alamo collection to the Alamo, Phil said that like any guy getting
along in age---he said he was 63--- he had begun to ask the question: what's going to happen to
my "Stuff" after I am gone? The answer for him was to donate it to the Alamo for permanent display.
Phil added that he does not want just portions of it put on display at one time. He envisions a
facility on Alamo Plaza that would house the entire collection. So either a new structure will be
constructed, or an existing building on the Plaza will be used. That was indeed good news to hear.
Following Collins' speech, the floor was then open for questions from the news media. One reporter
(I'm hoping it was Scott Huddleston) asked Phil if he was aware that there was a movement to save
the John Wayne Alamo set in Brackettville. Phil replied how some fellow had approached him at an
Alamo Society Symposium several years back, but he had not been approached about it since and so
had no hand in it. He did mention having visited the set and being given a grand tour of the
Village by "Ritchie", the manager of the place. Phil said that, while it was not exactly like
being at the "real deal" (he gestured at the Alamo facade) it was nonetheless a very moving
experience for him. When the reporter pressed him further, asking him if he was aware about the
deterioration of the 70 MM Director's Cut print of John Wayne's THE ALAMO and that there was a
movement to save it, as well, Phil replied that he was aware of it, but again, had not been
approached about it by anyone. As to the deterioration, Phil shrugged, "These things happen".
Phil said that he had not expected so many people would show up for the announcement, and that
he would've written a speech, had he known. He was pleased by the turnout.